1. Advantages:
(1) Save space and time.  
(2) The machine has its own sterilization function. 
(3) Eliminate troubles caused by weather and glue problems. 
(4) The finished straw is high temperature resistant and degradable.  
(5) The product loss rate is greatly reduced.  
(6) The hardness of the finished product increases with the same gram of raw materials. 
 (7) The whole machine adopts servo motors 
 (8) Suitable for dual-purpose models with glue and no glue
2. Technical parameters of paper straw machine
Raw Material:Pure wood pulp paper
Paper Layers:3-4 layers
Paper Thickness(from inside to outside):120g/m²,120g/m²,60g/m²
Tube Thickness:0.3-2mm
Running Speed:40 - 100M/min
Tube Size:4.5-12mm
Cutting System:Full servo, 8 sets of tools
Cutting Length:70-1050mm
Power Source:380V 50Hz
Operation Person:1-2 people
Paper Roll Bracket:1600*1500*1900mm
Main Part:2400*1000*1400mm
Collection Part:2000*1300*1900mm
Weight:1400kg
3. Paper straw machine configuration:
Main Motor:co-trust(1.5kw)
Drive:co-trust
Touch Panel:siemens
Servo Motor:co-trust
Bearing:HRB
Electronic components:Omron
Pneumatic parts:Airtag    
4. Finished product: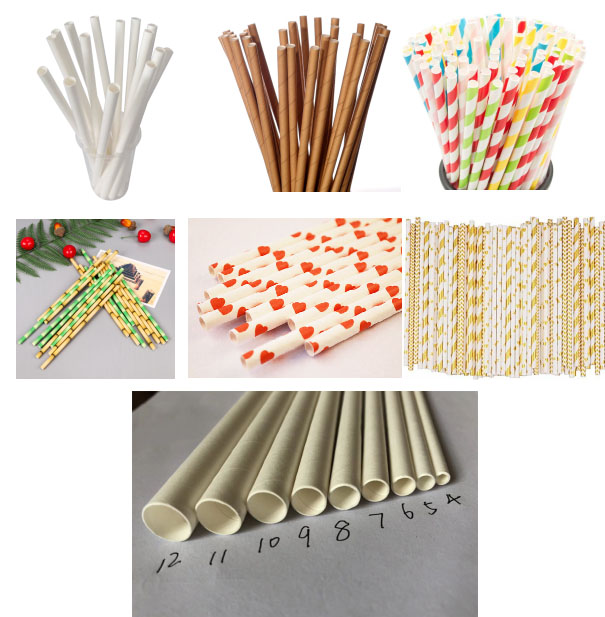 5. Supporting products